About Our Pastor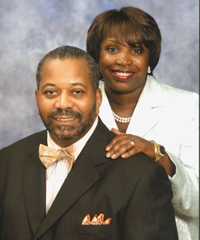 Joseph Johnson is the Senior Pastor of West Oakland Missionary Baptist Church in Atlanta, Georgia. Pastor Johnsonís academic achievements, to name a few, began at Apopka Memorial High School in Apopka, Florida, where he received his academic diploma in June of 1970. He went onto college at Stetson University in Deland, Florida, where he attended from September 1970 to March 1972. From there, Pastor Johnson entered Morehouse College in Atlanta, Georgia, and graduated with a Bachelor of Arts Degree in Sociology in August of 1974. He did not stop there and later received his Bachelor of Theology degree from International Bible Seminary in Orlando, Florida in June 1984.

Pastor Johnson is continuing his education and is currently enrolled in a dual masters program at Trinity Theological Seminary in Newburgh, Indiana seeking both the Master of Sacred Literature and Master of Divinity degrees.

Not only is Pastor Johnson a preacher, teacher and scholar, he has also received numerous awards and honors. He was named the Outstanding Young Men of America in 1970; received the Governorís Citation from Junior Achievement of Greater Atlanta; received the Certificate of Appreciation from the Henry Grady High School Vocation Office Training Program and the Certificate of Recognition from the Boy Scouts of America. He was recently inducted into the Martin Luther King, Jr. International Board of Preachers in Atlanta, Georgia.

Pastor Johnson was born in Fort Pierce, Florida and raised by his mother, the late Deaconess Lola Johnson Thomas. He is married to the former Priscilla McGuire and they have one son, Joseph, Jr.